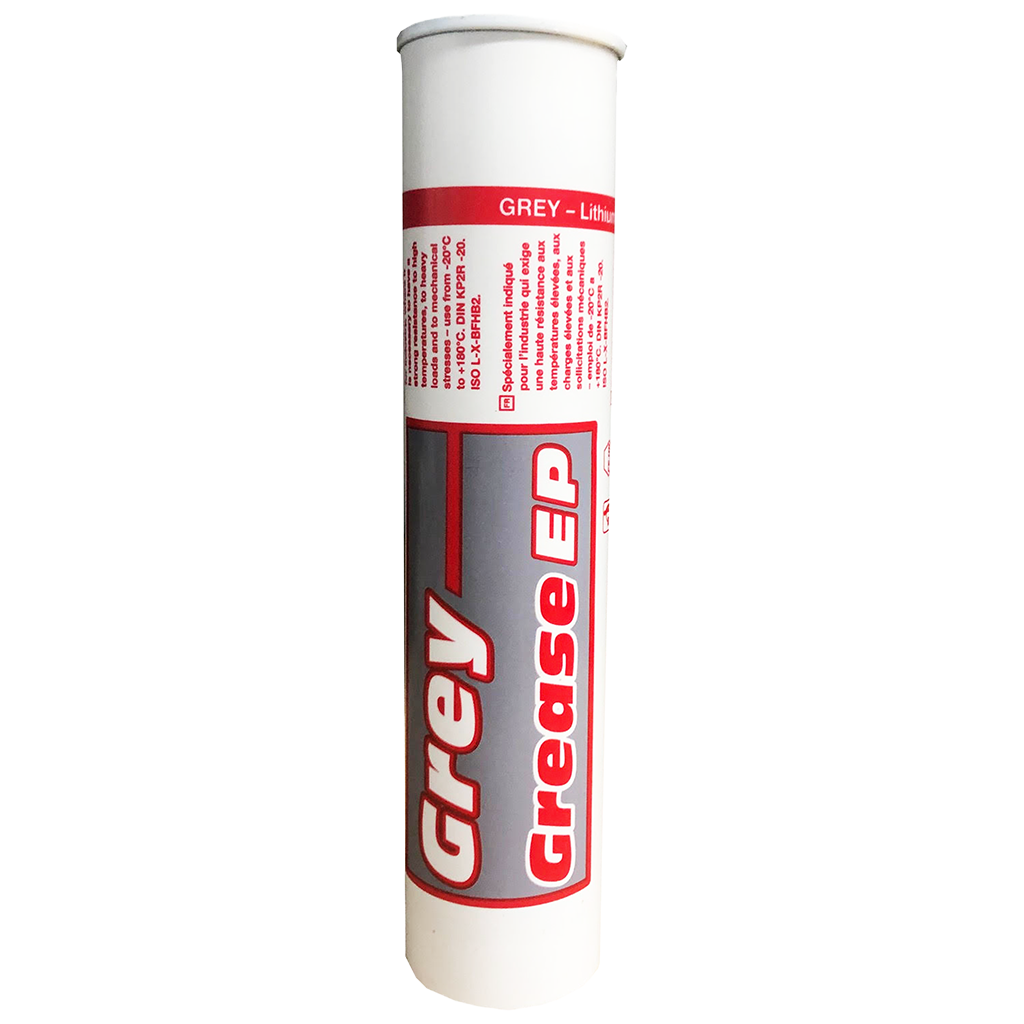 Grey Lithium - Complex Grease x 18
---
Please note all prices exclude VAT
Next day shipping available
Worldwide shipping quote available on request
Especially suitable for where it is necessary to have a strong resistance to high temperatures, heavy loads and mechanical stresses 

– use from -20°C to +180°C.
DESCRIPTION

GREY grease is a multi functional grease, lithium complex soap based containing "EP" additives (free from heavy metals) which make it suitable to bear heavy loads, impacts or vibrations and high temperatures.

The use of highly refined mineral oils and the addition of a balanced set of additives guarantees long lasting lubricant efficiency. Which will contribute to significantly extending the useful life of the mechanisms lubricated with this grease.
APPLICATIONS

GREY grease is particularly indicated for the lubrication of mechanical organs operating in hard conditions. Such as heavy loads, the presence of moisture or dust in the environment, high temperatures and irregular stresses.

GREY grease is suitable for all kinds of sphere and rolling bearings with average speed. It is used in every industrial field, solving the most widespread grease lubrication needs in the majority of industrial machinery.
TECHNICAL CHARACTERISTICS
| | | | |
| --- | --- | --- | --- |
| Properties | Unit Measure | Test Method | Typical Values |
| NLGI Classification | | ASTM D217 | 2 |
| Dropping Point | °C | ASTM D566 | 290 |
| Manipulated Penetration 60 str. at 25°C | 1/10 mm | ASTM D217 | 280 |
| Manipulated Penetration 10.000 str. at 25°C | 1/10 mm | ASTM D217 | ∆ +/-20 |
| Four Ball EP Test 10 sec/1800 rpm - weld load | Kg | ASTM D2596 | 250 |
| Timken Test – OK loads | Lbs | ASTM D2509 | >45 |
| Anti Corrosion Test | rating | ASTM D1743 | PASS |
| Base Oil Viscosity at 40°C (ISO) | cSt | ASTM D445 | 460 |
| Water Spray Off | % | ASTM D4049 | 12 |
| | | | |
| --- | --- | --- | --- |
| Colour | Grey | Appearance  | Homogeneous |
| | | |
| --- | --- | --- |
|   | Min. | Max. |
| Recommended Use Temperatures | -20 °C | + 180°C |